Attorney Profile – Jay Hurlbert
The Injury Attorney in Ohio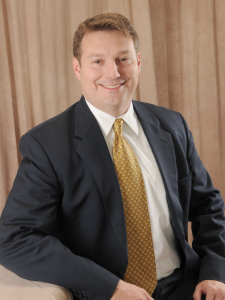 [Hard Working]
Jay Hurlbert grew up in a small town in Ohio where he learned the value of a hard day's work. When the time came to choose a university, he knew immediately that it would The Ohio State University where his grandfather played the drums in the marching band. Jay completed his College degree in Psychology and was on the Dean's List. From there, Jay worked full-time while he pursued his law degree from Capital University Law School. While at Capital Law School he was on the Law Review and the Dean's List. Jay was admitted to practice law in the State of Ohio and in the United States District Court for the Southern District of Ohio.
[Unique Experience]
Jay has been involved in helping injured people throughout his legal career from those injured on-the-job or involved in accidents. Beginning at the Ohio Bureau of Workers' Compensation, Department of Legal Operations where Attorney Hurlbert was instrumental in creating and managing a new department within Legal Operations. As an expert in his field, Jay was repeatedly requested to serve as a speaker at Continuing Legal Education seminars throughout Ohio.
As an experienced personal injury attorney Ohio, Jay Hurlbert provides the wisdom and experience regarding the potential strengths and weaknesses of each case. Jay previously managed the litigation practice at a well known personal injury firm where he spent eight years representing the rights of people injured due to the negligence of others. During his tenure there he recovered millions in settlements and verdicts.
Additionally, Attorney Hurlbert worked as in-house counsel for a prominent property and casualty insurance company, so he knows first-hand how they operate. It was this experience that motivated him to want to work with those who have been injured.
[Wide Range of Cases]
Jay Hurlbert has resolved a wide range of cases including:
Wrongful Death
Amputations
Spinal Fusions
Traumatic Brain Injuries
Severe Neck and Back Strains
Sprains
Dog Bites
Client's Coverage Disputes with their own Insurance Companies
No matter the severity of the injury, Jay Hurlbert offers an honest evaluation regarding each case. With 15 years of experience, you can trust Jay Hurlbert to provide the insight needed for your situation. Please visit [Practice Areas] to learn more about these and other cases our personal injury attorney Columbus can assist you with.
[Personal Attention]
Jay Hurlbert will personally be responsible for all aspects of your case. He strives to negotiate the best settlement offers for each of his clients. But if the insurance company or responsible party doesn't provide a fair and reasonable offer then Attorney Hurlbert will file a lawsuit and manage the process to the very end.
If it is necessary to file a lawsuit, Jay will provide the personal attention your case needs by drafting complaints, obtaining written discovery from the responsible parties, filing motions, deposing expert witnesses, taking depositions of eye-witnesses, responsible parties and your medical providers. From the first phone call to the end, Jay will be involved in every aspect of your situation and will know how it impacts you and the ones you love.
[Home Life]
As a husband and father of two school aged children, home life is busy with an array of activities. But, Jay Hurlbert still finds the time to coach his children's basketball teams, root for the Buckeyes and loyally watch the Browns. Additionally, Jay attends church and supports various charities at home and abroad.
[Qualifications At A Glance]
Capital University Law School, Juris Doctorate
Law Review
Dean's List
The Ohio State University, Bachelor of Arts
Psychology Major
Dean's List
United States District Court, Southern District of Ohio
Admitted to Ohio Bar
Ohio State Bar Association
15 years experience
Honest evaluation regarding each case
Recovered millions in settlements and verdicts