Personal Injury Lawyer Delaware, Ohio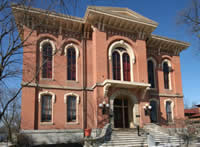 Accidents Happen
And when they do it's important to have a trusted injury attorney in Delaware, Ohio. An attorney who not only fights for you but understands your needs as a client. After a car accident, workplace injury, or medical malpractice injury the next steps can be confusing. They don't have to be. You don't have to navigate the system alone.
Injury settlements can be Stressful
Accidents and injuries are stressful times. With paperwork to fill out and insurance adjusters calling you the task of getting what you deserve can seem impossible. There is no need to go through the process alone. The Law Offices of Jay Hurlbert is here to help you.
We make it less Stressful
Our job is to ensure you and your loved ones are protected and receive the settlement you deserve. You need someone to listen, to understand your situation and to provide trusted counsel. At the Law Offices of Jay Hurlbert we provide all of our clients with the personal attention they need. Our proven track record and client testimonials show our commitment to your needs as a client.
Let us Fight for you
Jay Hurlbert knows the ins and outs of filing a lawsuit in Delaware, Ohio so you don't have to. With over 15 years of legal experience and millions of dollars recovered in settlements and verdicts, Jay Hurlbert knows how to fight and win for his clients. His experience and success as an accident attorney means you get one of the most trusted and respected lawyers in the Delaware, Ohio area.
You deserve Representation
Our job is to help you. Let Jay Hurlbert fight for you and get the settlement you deserve. Contact us today to schedule an appointment with a lawyer for a free case evaluation. There is no charge for an initial meeting or phone call concerning your case.